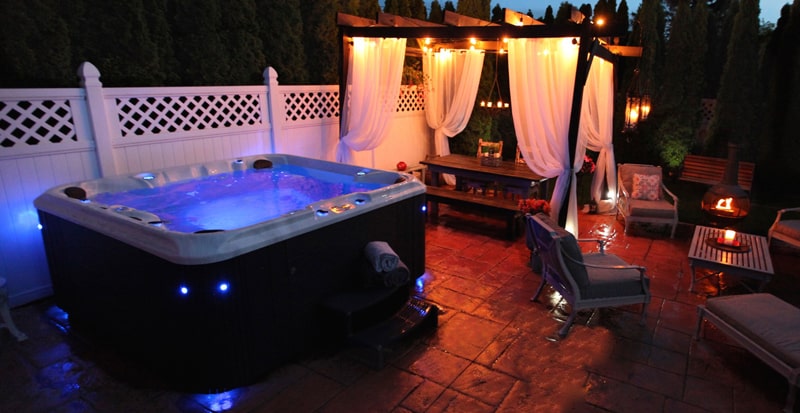 You might have entertained the thought that you can increase your property's value by taking your outside space to the next level. Can a hot tub help get you there? Adding a hot tub from myhottub.com to your outdoor space can actually increase the value of your home. With proper planning and a well-executed design, you'll find that adding a spa will not only enhance your outdoor experience but can also add extraordinary value to your property.
While some home renovations can seem risky and expensive, studies show that successful outdoor renovations can add serious value to your home. According to a study published by SF Gate, a successful landscaping project can add value upwards of 12.7%. So, what's the key to outdoor value? Vision. Rather than making your spa seem like an afterthought that just sits in the corner of the property, incorporate your spa as the major focus of a well-designed outdoor landscape. The way to execute that plan can vary based on the owner's interests or target buyers, but here are a few ideas to maximize the appeal of your outdoor landscape and add substantial value:
The focal point of your yard
A spa could very well be the largest and most expensive part of your outdoor space, therefore, it's important to design the rest of your landscape around the spa. Popular strategies are to introduce the spa with a beautiful stone or brick walkway. More elaborate ideas include surrounding the spa with a finished deck or placing it underneath an arbor or terrace. Keep in mind the color and design of your spa's exterior so as to stay consistent with your vision.
Strategic placement
Finding the proper placement for your spa is also very important. Avoid placing it far from the house, which will likely discourage you from using it in the colder months. Also avoid placing it off in a secluded corner, or randomly somewhere in the center of the lawn. These placements will make it harder and more expensive to design the surrounding landscape. If possible, keep the hot tub close to the house, while utilizing no more than a single existing wall or railing. This allows for easy access to the spa and provides plenty of options for the surrounding environmental design.
Make it your own
Many beautiful spas are accented with a simple surrounding moat of pebbles or seashells. Other popular ideas include using nearby furniture or well-maintained plant-life to augment their spa's appearance. Of course, lights, sound systems, waterfalls, and other dazzling features could be just what it takes to add tremendous value to your outdoor space and push a potential buyer over the edge.
Whether you're looking to sell or have plans to stay long-term, adding value to your property is always a plus. Consider the benefits of making your spa environment the focal point of your property: create a vision, set the plans in motion, and have fun watching your level of enjoyment AND your property value soar!