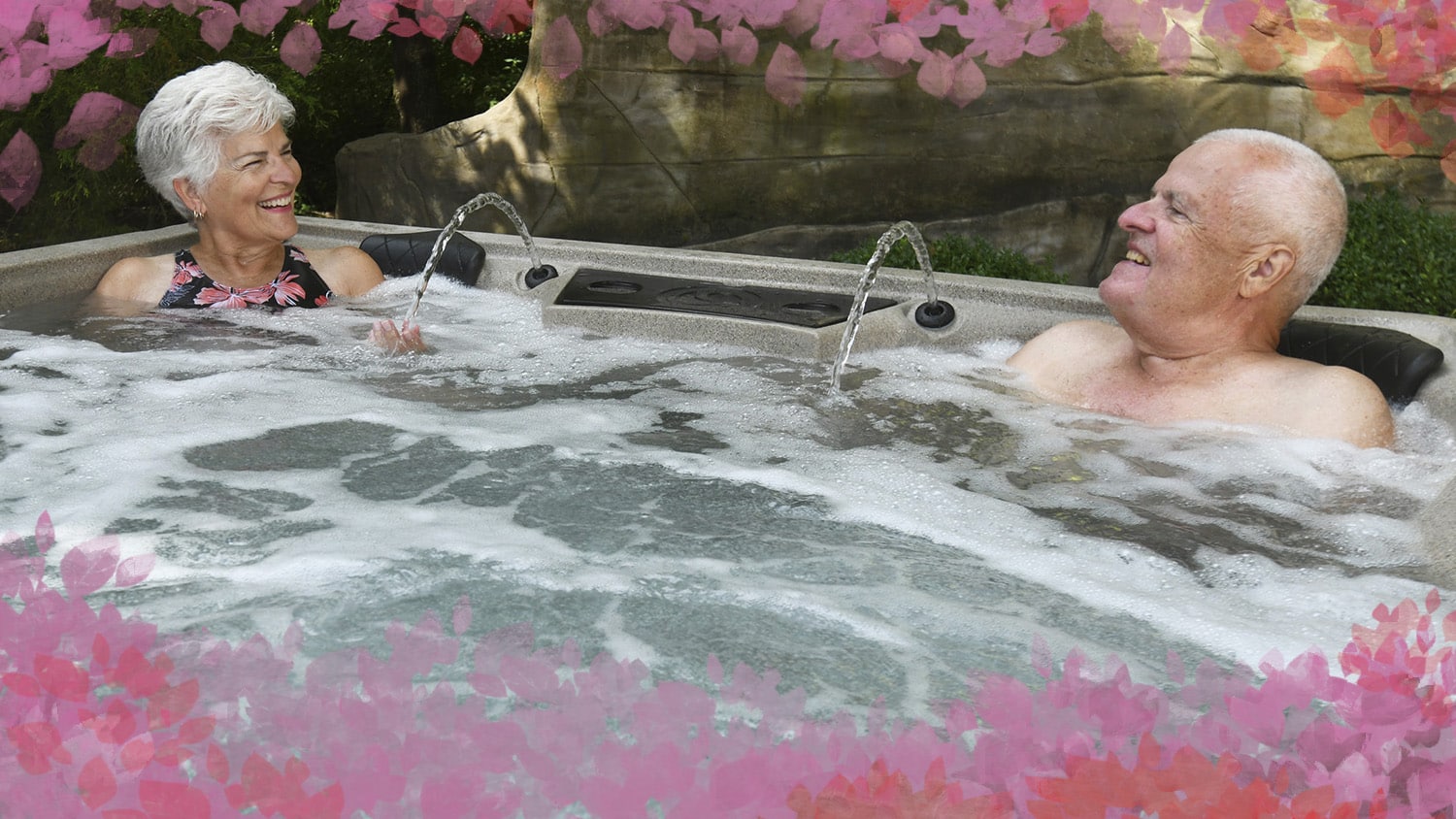 Not sure how to spend your Valentine's Day this year?
If you're interested in planning a romantic, irreplaceable date night, you have come to the right place! There's nothing more romantic than planning a hot tub date for your significant other. You already have the hot tub, making it affordable and convenient. With just a few household items you will be ready to go! Once you're finished setting up for the date, all you have to do is sit back and enjoy a relaxing night with your Valentine.
Setting the Mood
Lighting:
You have many choices when it comes to lighting. But it all depends on what you have available and how much time you're willing to invest in the date. For example, simple options include dimming any of the lighting around your tub or setting up a soft lamp. Another alternative is to set up candles around the hot tub or create a candle lit path to the spa. Keep the candles a safe distance from the hot tub and any other surrounding objects. Take your arrangement to the next level by hanging string lights from trees or around the porch banister. If the timing is right, you can watch the sun set together or, if it's a clear night, you can star gaze.
Fragrance:
There are multiple options for adding a peaceful fragrance to the evening. Candles are the perfect option. Not only do they add to the ambience of the night. But they also help you relax with their aroma and soft glow. In addition to candles, diffusers are a more natural option with scents that can help energize, relax and lift your spirits. If you really want to spruce up the spa, flowers make for great décor and add a warm summer fragrance on a cold night.
Music:
Choose songs that both of you enjoy listening to. Whether it's romantic or fun and playful. Creating a playlist with songs that have a special memory or meaning associated with them will add a nice touch to the date. A built-in sound system makes it easy to play music while enjoying your hot tub. Other options include playing music through portable Bluetooth speakers or a music player.
Activities
Food:
There are a variety of options when it comes to picking out refreshments for your date. You can create an assortment of trays depending on what type of food both of you prefer. For instance, celery, carrots, peppers, strawberries, raspberries and blueberries with dips on the side are a healthy option. If you are interested in a quick alternative, grapes, cheese and crackers are a delicious yet quick option. Hot chocolate with marshmallows is the perfect addition on a chilly night. A more exquisite option would be ham-spinach crepe cups, hoisin meatballs, shrimp tartlets and caprese salad kabobs served with a cold bottle of wine.
Conversation:
After a long day at work, it can be hard to unwind and focus on each other with phones, household tasks and kids competing for your time. However, the atmosphere you have created with music, lighting and aroma can help you focus less on the responsibilities around you, and more on your loved one. You can also create a list of amusing questions to ask each other. It's never too late to learn something new about your significant other.
Massages:
Now is the perfect opportunity to give your Valentine a relaxing massage. Your muscles are already starting to feel relaxed, with the hot water and jets applying pressure to those key areas. Add to the relaxation by giving them a neck, shoulder or back massage.
Time to Enjoy
Sit back, relax and enjoy the night. Now you are ready to spend some quality time alone with your loved one on Valentine's Day.