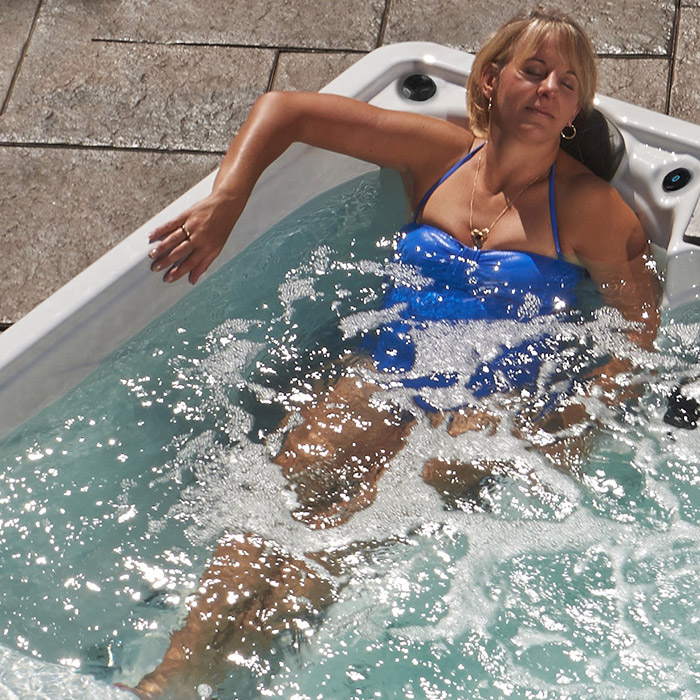 When buying your first hot tub there are many features to consider and it can be overwhelming. You have to consider so much before buying like:
Jet Count

Hot Tub Placement

Cost

Reviews

Quality

Brand

Seating

Water Features

And more
At MyHotTub, we've encountered all kinds of customers with varying knowledge of hot tubs; there's no need to feel bad for not knowing everything about hot tubs and we don't expect you to. Our goal is to educate you over time and help you fully understand your hot tub wants and needs. 
Simply put, a lounger is a hot tub that has an area of the hot tub you can recline in and put your feet up. Most loungers are built for the average size adult to comfortably recline with their head above water. However, a lounger is not one size fits all. These types of seats allow for more comfort and relaxation. The idea is to recline in the warm water and let the jets hit you more, giving you a full body massage. We recommend these for people who want a hot tub to decompress after a long day and soothe any aches and pains. A lounger is better suited for individual soaks or a couple's soak, but it can still fit multiple people. The seats are built so you won't necessarily be sitting face to face in the hot tub. The lounger does take up more space than a single seat in a hot tub, sometimes 2 to 3 seats. For those who want to fit multiple people in their hot tub, we recommend the non-lounger.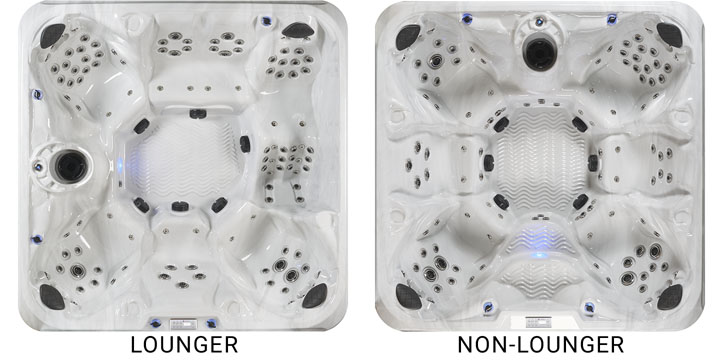 A non-lounger hot tub is exactly what it sounds like, a hot tub lacking a lounger seat. In the place of a lounge seat is more seats. We recommend these for people who want to have many friends or family in the hot tub at once. If your idea is to bond as a family and enjoy a family hot tub soak, this is the perfect hot tub for you. The seats are designed for people to sit up right, yet slightly reclined. Multiple jets still massage your body as well.
When it comes to deciding on a lounger or non-lounger it comes down to personal preference. Luckily, we have many models available with both options to choose from. In our Shop you can even filter by lounger or non-lounger spas. If you'd like to see your hot tub in person before buying, you can stop into our MyHotTub stores in either Albany or Syracuse, New York.