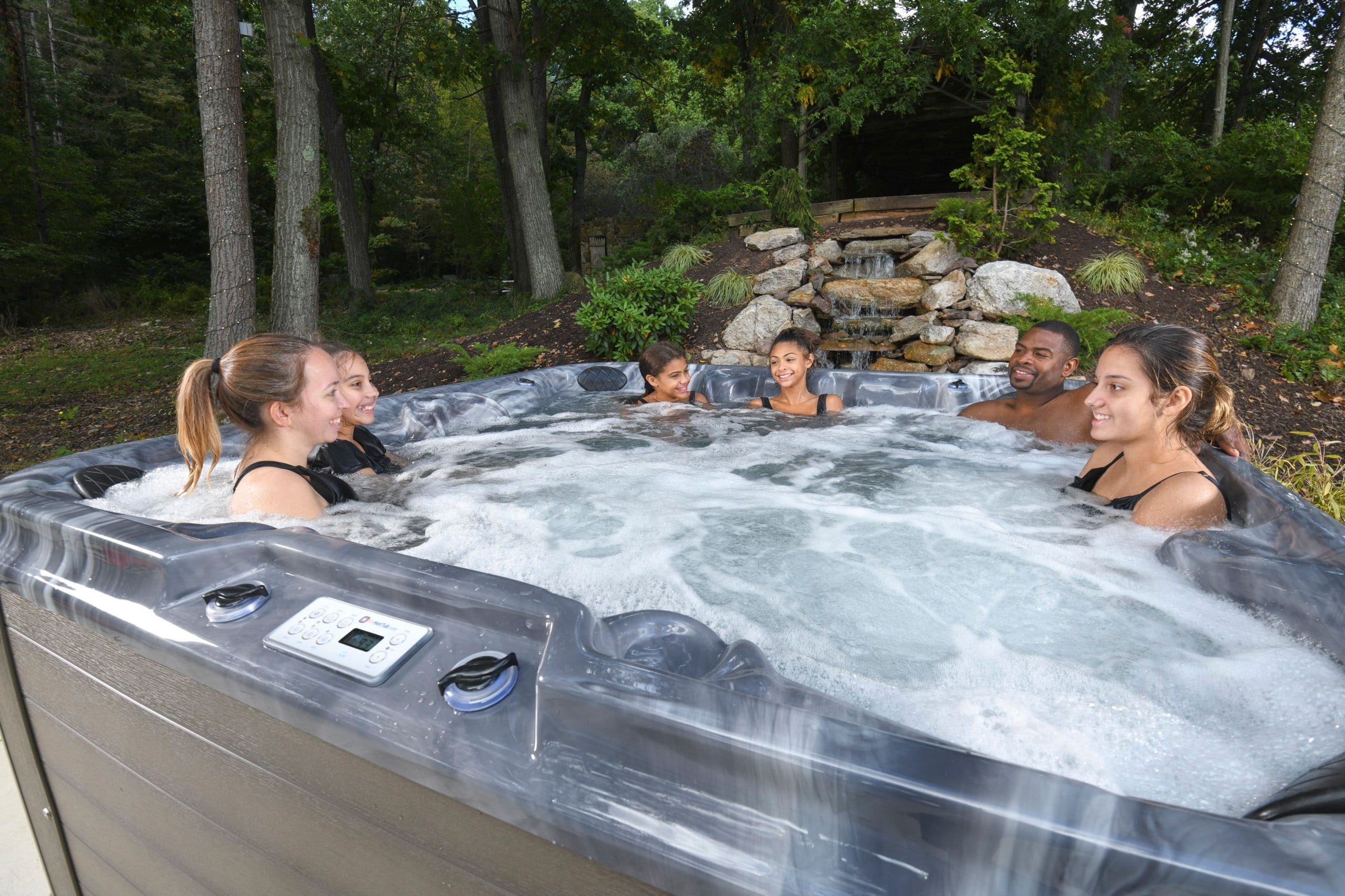 Are you looking for a spa but don't know which one to buy? With so many options for spas on the market, it can be tough to find the best hot tub for your needs. The best rated hot tubs sometimes can't fill every need you have or needs you didn't know you had. You are likely looking for an affordable hot tub with great reviews, high quality, maybe some water features, and will give you years of use out of it. It can be hard to figure out which hot tub is the best when you're not an expert on them. There's more to a hot tub than some people realize and they don't know what to look for or even consider. We want to use our knowledge as a hot tub manufacturer to help you find the top hot tub option for you.
We want to help everyone find their dream spa regardless of their spa knowledge. Whether you are looking for your first spa and know very little about what to look for in a spa or you have experience with spas and searching looking for your second or third spa, we have compiled a list of features the best hot tubs possess so you know what to look for.
Many hot tub manufacturers make their spas in both a lounger and a non-lounger version. Some of the best hot tub brands offer every model they make in both options, other smaller companies can only offer it on their best selling model. For those that do not know, a lounger is a reclined seat in a hot tub meant for laying down in. A hot tub without a lounger seat is a non-lounger.
Typically, a lounger seat takes up two seats. So by choosing a non-lounger you get one more seat than a lounger model. A hot tub with five seats and a lounger would have seven seats as a non-lounger. Some people get a lounger for comfort but still use the lounge seat as another seat. You might find a spa for sale that says 3-4 seats or 5-6 seats. This depends on the version you get, lounger or non-lounger. Some people will say the lounger seat provides more relaxation, but that is decided by personal preference.
Jet Count
Spas come in various models with different jet counts. Some even offer different types of jets. Some spas can have as little as 28 jets and others have 90 or more. This too comes down to personal preference. Some people love jets and use them every time they are in their hot tub, other people don't use them at all. Sometimes the number of jets affects the price of the spa as well. When deciding on a spa, you should figure out which you are most comfortable with, more or less jets and how many jets provide you the best relaxation.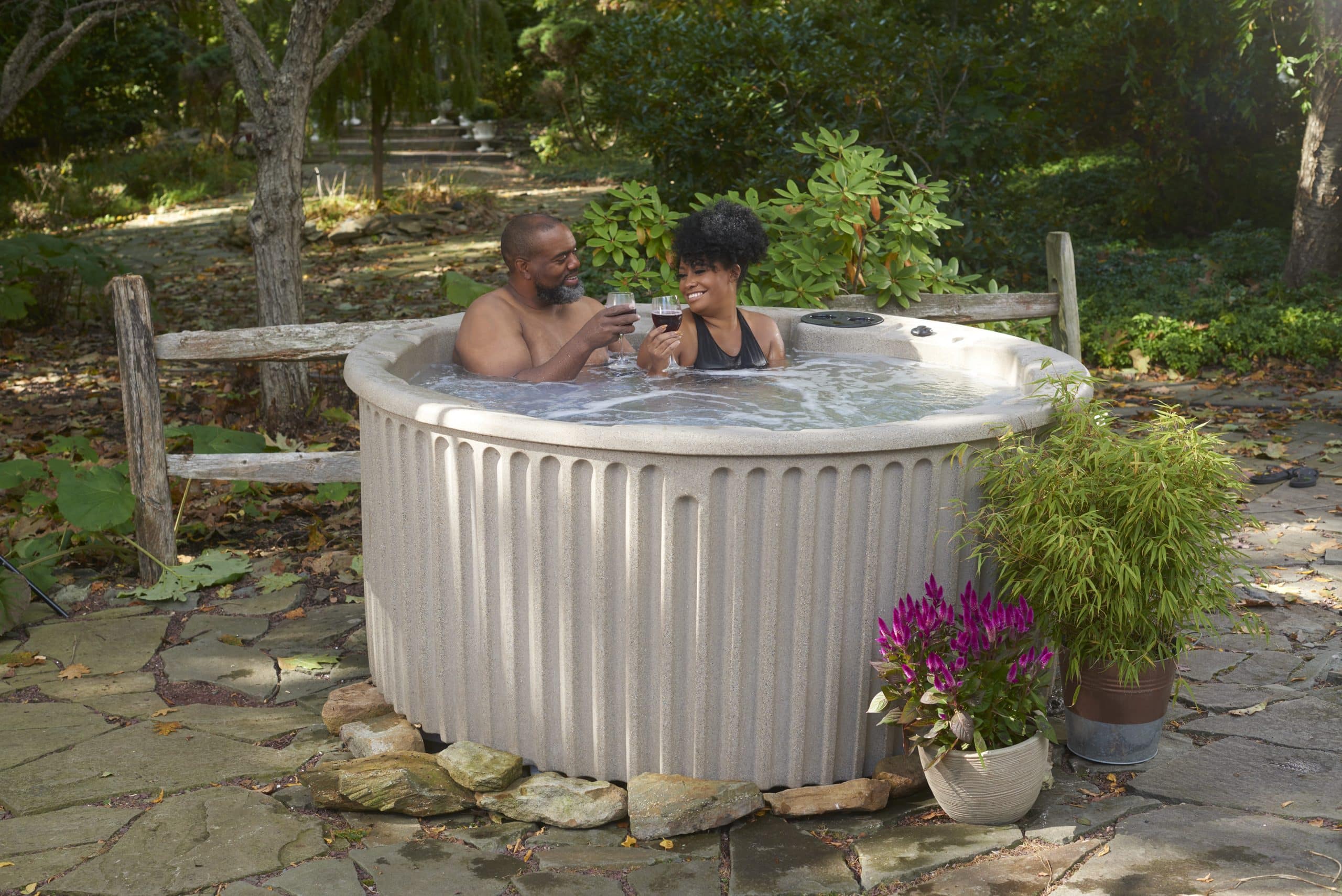 For those who have never heard about plug and play, it refers to the plug used on the hot tub. It gets rather technical and can be hard to understand, but we will try to explain it the best we can. Most states have a safety code on the outlets used in a home to prevent electrocution. The outlet required will trip, cutting off power to prevent injury or death. The name given to these types of outlets is a GFCI outlet, which stands for ground fault circuit interrupter.
A GFCI is typically used anywhere an electrical circuit may come in contact with water. This can be kitchens, bathrooms, laundry rooms, outside the home, or anywhere you have it installed. A plug and play spa means the spa uses a special plug that is already set up to be plugged into this GFCI outlet and power the hot tub. A plug and play spa model typically has fewer water features and is cheaper than a non-plug and play hot tub. Many spas without a plug and play require an electrician to wire the hot tub to work on the GFCI outlet or change the desired outlet on the home to fix the spa's needs.
Portability
Most people buy a hot tub and put it in one spot and it stays there forever. Many people will actually leave behind a hot tub when selling their house because they do not want to transport it. If you are looking for the best portable hot tub option, a plug and play is likely the best choice. These plug and play models are typically resin spas, not acrylic. This makes it lighter in weight than an acrylic model and easier to move. With water in the spa, it can weigh thousands of pounds. Without water, some models can weigh anywhere from 200 pounds to 2,000 pounds or more. The plug and play options are on the lower end of that scale, and typically a standard hand truck you might find at the hardware store can move your spa into place. Most handtrucks, or sometimes called dollies, range from $50 – $500 and can support anywhere from 100 pounds to 1,000 pounds. Some can carry even more.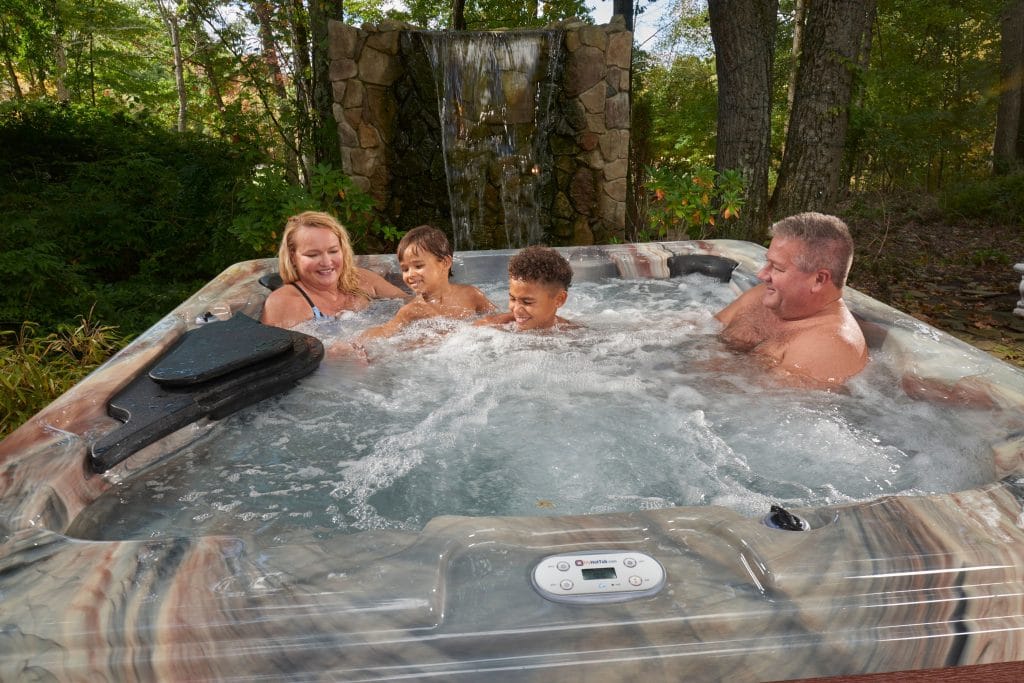 Size
Hot tubs come in different sizes. Usually, a resin spa has fewer seats and is smaller than an acrylic spa. If you're looking for the best small hot tub option, a resin spa with 4 or 5 seats might be best for you. If you want to fit 5 to 8 people in a spa, an acrylic spa might be the best option. Nearly all hot tubs will tell you how many seats are included, but like hot tubs, people come in different sizes too. When picking a spa, make sure you have in mind how many people you want to fit and your size.
Additionally, you want to consider the actual size of the hot tub. Not every hot tub is the same size or shape. Some are squares, rectangles, circles, or other shapes. Some spas can be 5 foot by 5 foot, 6 foot by 7 foot, or any configuration. If buying a hot tub online, you can likely find the dimensions of the hot tub and measure your desired space to make sure it fits. If buying a hot tub in person, you can ask for the dimensions of the hot tub or even bring along a tape measure. You don't want to buy a spa and then have it be too big for your space.
Another thing to consider with size is body size. You may want to fit 1 or 2 people in your hot tub, or you may want to fit 5 or more. People come in different shapes and sizes and so do hot tub seats. Some seats are smaller than others, some are raised higher than others, and some are level benches. A 5 person hot tub will have 5 seats and in theory can fit 5 people, but it depends on the size and shape of those people. Later on we discuss return policies, and this can come in handy if your spa doesn't fit all the people you wanted it to.
Features
Some people just want a standard hot tub to sit in and relax, maybe a couple jets, other people want more from a hot tub. Some hot tubs now offer water features like sprinklers or columns, waterfalls, or an ozonator. Some other features offered on spas include multiple interior LED lights, exterior LED lights, Bluetooth speakers, Wi-Fi, built-in stairs, a towel warmer, ice buckets, cup holders, a hardcover, a cover lift system, and more.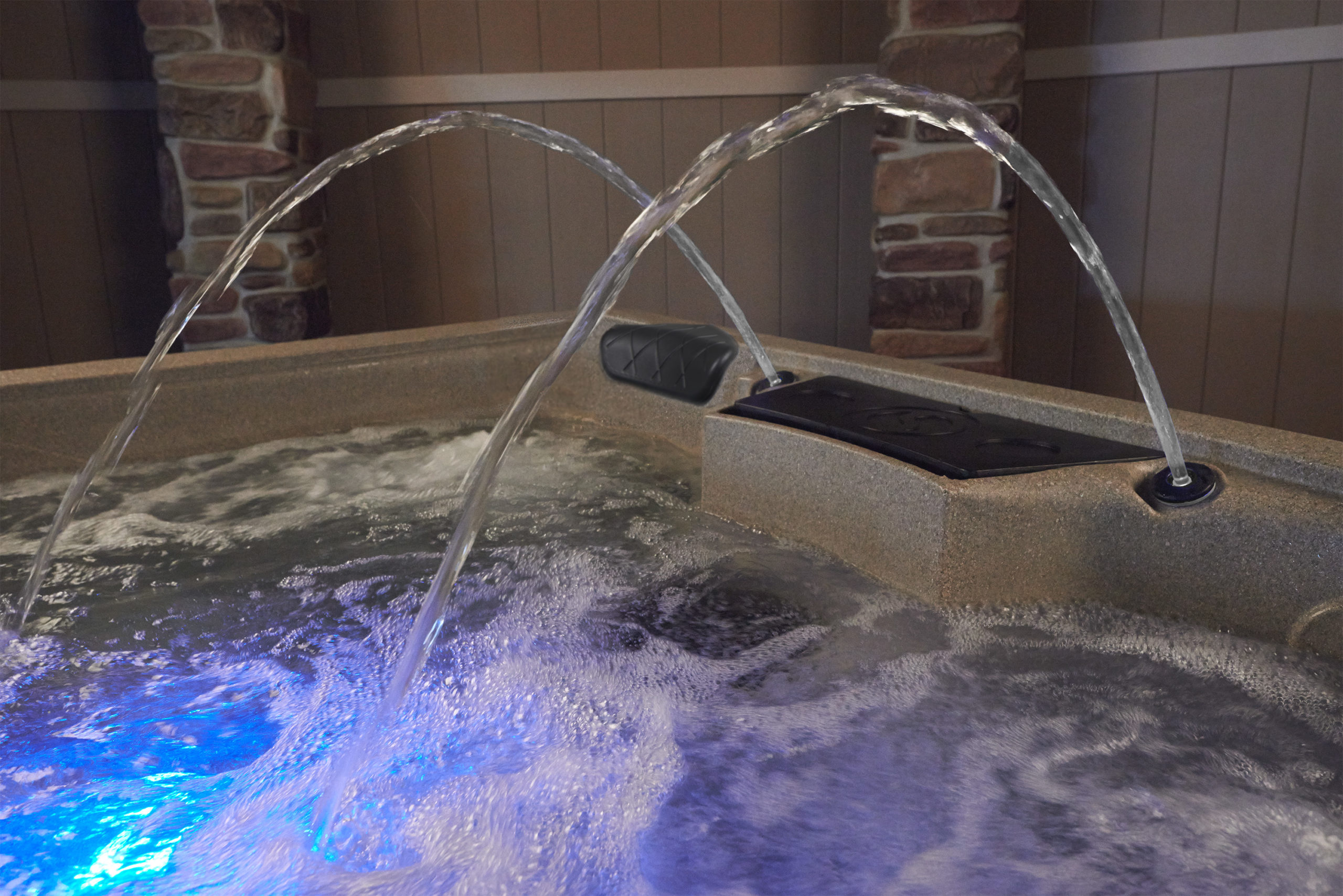 Ozonator
Hot tub cleaning and maintenance can be more work than people realize. Like pools, if the water in a hot tub is not properly taken care of, it can become green and create bigger issues later. There's different chemicals that can be used for cleaning a hot tub, and ultimately it comes down to personal preference. To keep your spa clean you need a chemical sanitizer. These chemical sanitizers kill harmful bacteria and keep your hot tub clean. You can use either chlorine or bromine as a cleaning sanitizer for your spa. Many spa companies do not ship chemicals with a spa because they can get damaged in shipping and create harmful fumes. It's important to safely handle any chemicals and store them in a safe location.
To make caring for a spa easier, the ozonator was created. Ozone is a purifier created in nature by lightning storms and the sun's ultraviolet rays. An ozonator in a spa is designed to replicate this process. An ozonator contains an ultraviolet light bulb that converts oxygen into ozone. The created ozone is then pushed into the spa through the jets. When the ozone comes into contact with the water, it starts to kill those harmful bacteria, oils, suntan lotion, sweat and more.
An ozonator is not designed to act as your sole means of cleaning your spa. You should still use a chemical sanitizer to help clean your spa, but you can now use less. Using less chemicals can save you money and reduce any skin, eye, or nose irritation. To summarize, an ozonator is a feature on some hot tubs designed to help clean the water and save you money.
Delivery and Installation
This can be one of the biggest decisions when picking a spa. When you buy a spa, delivery is arranged. Very rarely are you expected to transport the hot tub home yourself. Some of these deliveries are curbside only, or they will deliver the spa and place it where you want it. This does not include installation. Installation can be very simple on a plug and play. As stated above, you only need to plug it into a GFCI outlet and it works. However, a non-plug and play model can be more work to install than people thought and installation wasn't included. When picking the best hot tub for you, this is very important.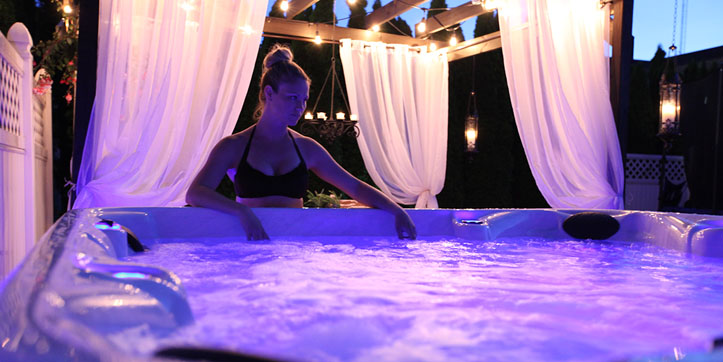 No one wants to think about it, but eventually your new spa might break down or have an issue. Every brand on the market has a spa break down from time to time. Sometimes it's only a small issue like a jet or light that won't work. Other times it's a huge issue and you just need a new spa. Every company offers a different warranty, and some none at all. It's nearly impossible to find a spa function perfectly forever. When finding your perfect hot tub, consider the warranty offered.
A spa can be a big purchase. Some of the best hot tubs offered can range from $5,000 to $20,000 or more. When you find your perfect spa, it can be upsetting when it's outside your price range. You might have to make a tough decision and sacrifice features or quality to fit in your budget. Luckily, some of the best hot tub brands offer financing plans to make affording a spa possible. Some of these have low interest and let you gradually pay off your spa. The downside of these plans is a poor one can cost you heavily in interest. It's important to look at timelines for paying the spa off and the interest so you know what you're getting into.
When choosing the perfect spa, you should consider any return policies offered by each brand you're considering. Some of the best hot tub brands can be very expensive, and the last thing you want is to be stuck with a costly spa you don't like and can't return. Some places might offer a return policy for a given time period. Maybe 30 to 90 days after purchase. Others offer a return for spas only bought online. You might find some brands will only offer a return policy on certain items. To make sure you pick the best spa option, you'll want to find these policies if you can. Some places are open and honest about their return policies and show them on the website, typically at the bottom of the page. Other places you'll have to search hard or even call them about it.

Another thing to consider when looking at multiple spa options is the brand's customer service. Some people believe this is the most important factor of any spa. As much as you may not want to think about it, every spa eventually has issues and you'll likely need help to solve these issues. Even the top brands can break down over time. Buying from some of the best hot tub brands can be a downside here. Big companies sell many spas and serve many customers. When you call or email their support network, it could take hours or days to hear back. You can often find reviews online that talk about their experience with customer service. You can look at the friendliness of customer service, the wait times, and if their issue was even solved. When your spa eventually has issues, the customer service you receive can make or break your opinion of a company. The most amazing spa can easily become a hassle if you can't get your issues resolved easily.
Quality Control
This can be a tough factor to find online, but you should know about the quality control of a spa manufacturer. Every product has a defective model here and there, but how do companies prevent that? Some companies have multiple quality control tests to make sure their product is suitable before being sent out to stores or customers and spas are no different. At MyHotTub.com, we have multiple tests done before a spa leaves the factory. This is vital because there could be cracks in the acrylic, missing or damaged plumbing, major leaks, water features that don't work or other issues. If you get a defective model, you can likely get a replacement, but it's a factor that contributes to peace of mind. When spending thousands on a spa, you want to know it's issue free. The last thing you want is to take it home, get excited about enjoying your spa later that day, fill it, and it floods your deck or patio. You then have to call and explain the issue and see what the seller can do. Knowing the spa was tested before it was sent out helps prevent these situations, but they still happen. Despite being able to get a replacement spa, the quality control shows a company stands behind their product and cares about the customer. Maintaining strict quality control also shows a company cares about their reputation and what they're sending out into the market. Building a brand known for high quality goods builds trust and loyalty. At the end of the day, you want a spa you can rely on for years to come and a company you can trust. You want to be able to call the company easily if you have an issue and know they're dedicated to solving that issue for you.
Conclusion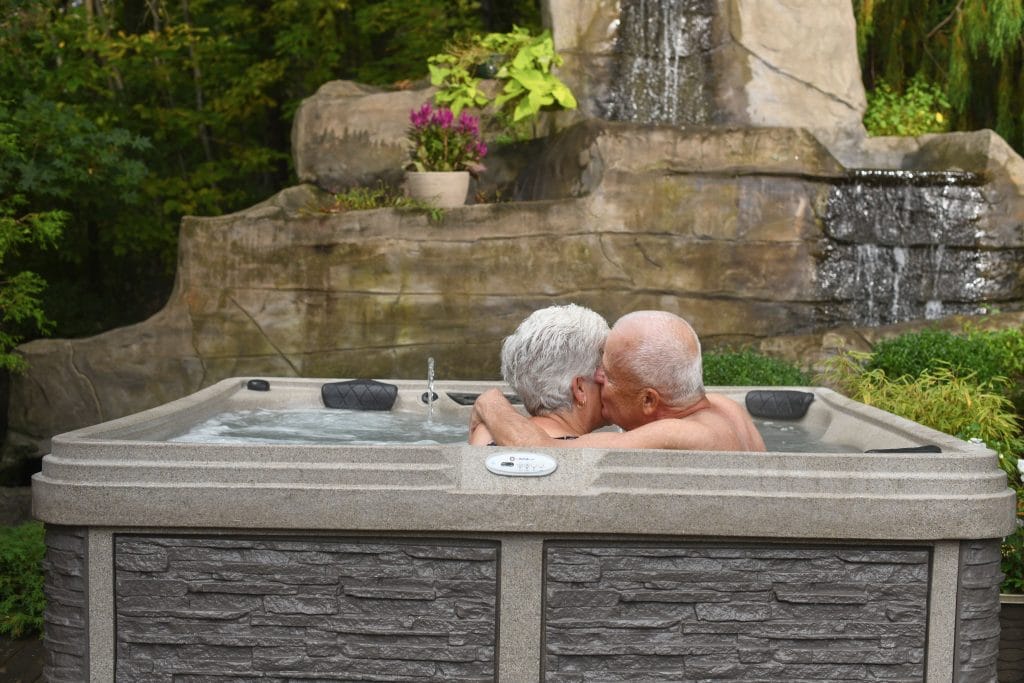 After reading our list of features to consider when choosing a spa, we hope you are now  prepared to pick your best option. Sometimes price and reviews play a big part in a decision, but there's many other factors to consider. Make sure you consider things like:
Jet Count
Portability
Size
Features
Ozonators
Installation and Delivery
Quality Control
Whether you're an expert on spas or not, we hope we were able to help you in your spa search. There's many factors to consider when deciding, so the best option is to prioritize which factors matter the most to you. Additionally, not every spa can match your needs. When spending thousands, make sure to do your research and find the option right for you. If you have any questions about this list or searching for a spa, you can always reach out and our Customer Service or Sales staff will be happy to assist you. Good luck in your spa shopping! We hope you find one you can love for years!