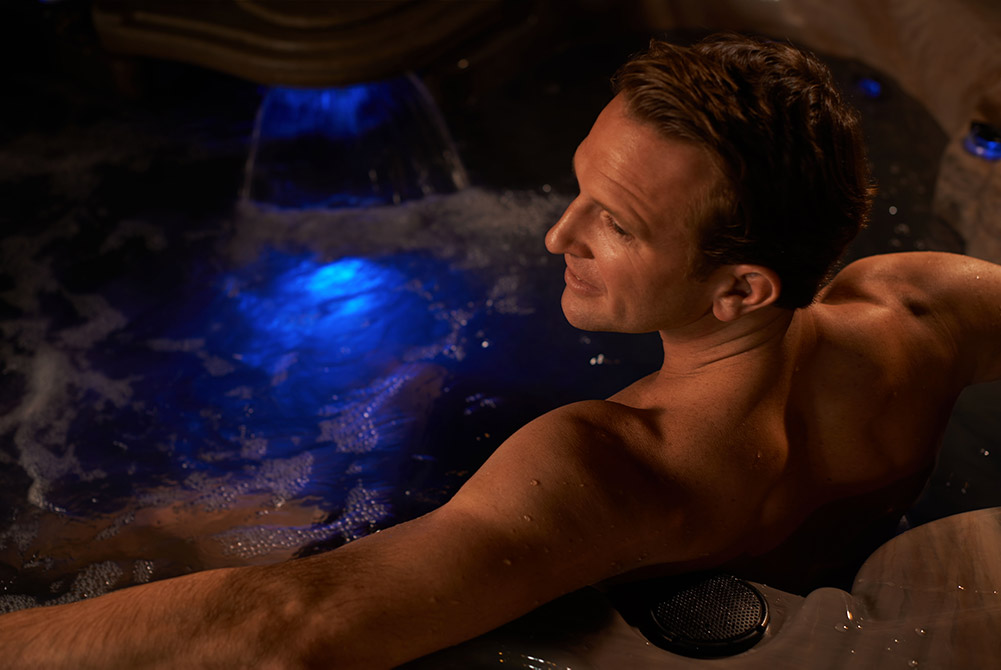 Liam and Olivia head out to buy their first hot tub, having stowed away enough money to make the finances work. Both of them desire a place to relax together in the evenings after high-stress hours at their workplaces. They've budgeted carefully and have been around long enough to see through the buzzword-heavy sales pitches. 
Their search spanned webpages, phone calls, and word-of-mouth recommendations from family and friends. The time investment could have felt like car shopping, with all its gimmicks and misleading promises. 
But the experience was the exact opposite of car shopping. 
Within two weeks, they had completed their research and made their dream purchase. 
What made the difference? Three aspects set this married couple's approach apart: 
1) Location, location, location 
2) Knowing what they wanted 
3) Knowing the right questions to ask 
Let's give you the same experience. 
Know where your hot tub will go

 
The first obstacle to surpass concerns where to place the hot tub (and if you have enough room on your property). 
Include these three elements in your planning: 
The unit should be placed on level, solid ground

 

The unit should be close to a water supply for initial filling and periodic refills

 

The unit should be close to the power supply

 
Just as in real estate, you cannot neglect location. Don't maroon your hot tub in a forgotten corner of the backyard, whatever the make and model! 
Be firm on what you want

 
You have the desire and the necessary ground. Next, create budget. Consider these questions: 
What's the target amount I want to pay?

 

What's the most I'm willing to spend?

 

What would I like in a financing agreement?

 
Make sure to incorporate the costs for the initial purchase, installation, and any accessories you would require. 
This is the time to answer the most critical question, one that orients how you'll approach the buying process: 
Why do I want a hot tub? 
You might want one as an escape for personal time. Or you'd like one because you want to host parties and gatherings, and a hot tub stands as the perfect complementary piece. It could be you're buying one to enjoy as a space for stress relief and quality time with a spouse or family. 
Keep digging further, asking yourself, 
Who's going to use this the most? 
Discover the answer, and it won't be long before you find out their needs and can look for models that meet the necessary specifications. Features like number of seats, quality of the water jets, and whether the unit comes with a cover are key considerations. 
Then, research models of hot tubs, paying special attention to the features and specifications offered. Record the models that fit your wants, as well as the manufacturer/seller. Collect estimates either online or at brick-and-mortar outlets to determine what models might remain on your list (or which undiscovered model and price package that's right for you might appear). 
Many brick-and-mortar dealers allow you to try out different models to get acquainted with the size and comfort. This goes back to who and how many will be using the unit. 
Regardless, you want to do business with dealers who are considerate about your budget. 
Asking the right questions
Knowledge and its useful application makes a better buyer, and armed with the right questions, you'll avert low-information impulse buys or decisions you'll regret later. Develop the questions from the features that compose a superior hot tub unit: 
An efficient heating system– keeps electric costs low & requires less work to maintain desired temperature

 

A quality filtration system– sifts out debris and dirty particles from water

 

Effective pumps– pumps determine the amount of pressure powering the water jets, which shoot out the water that produces the feeling of a massage

 
If you receive compelling answers, then you can ask more detailed questions such as: 
What, if any, accessories come with the unit?

 

How easy-to-use are the manual settings (that control temperature, pressure, etc.)?

 

Do the dimensions of the unit and seating also include enough room for the occupants to stretch out?

 

How many gallons of water does the unit require?

 

How many volts does the unit demand to operate?

 

What are the terms of the warranty?

 
Narrowing down your list is as easy as vetting dealers through asking these questions and listening whether they can walk you through the points with clear and concise answers. 
Google reviews and organizations that rate business service are also excellent resources for pre-screening dealers and re-routing from wasted time spent. 
Chances are, you're a veteran of other luxury purchases, so you understand quality and affordability aren't mutually exclusive. Now, loaded with tactical knowledge and questions that may expose questionable dealers, your search time will be sliced in half and you'll add the dream hot tub to your backyard. 
At MyHotTub.com, we create the most enjoyable and complete hot tub experience possible. We begin with our high-quality made-in-the-USA hot tubs, but we don't stop there… offering spa accessories, parts, installation, service and an attentive customer service team. Shop with confidence online or in our stores.