People and hot tubs both vary in height and size. The goal of a hot tub is to submerge your body up to your shoulders and have a relaxing time. For some people, this is easily achieved. For others, if they are sitting in a hot tub, their shoulders can be above or below the water line. A hot tub should be tall enough to enjoy a soak, but not too tall that you can't step in. If a hot tub were 6 feet tall, most people on the planet could easily enjoy a full body soak. But stepping 6 feet up to get in the hot tub? Fairly difficult. There may be a few people who could do that or some Olympic high jumpers or pole vaulters that can clear that, but the vast majority of people cannot. Reasonably, a hot tub ranges from 2.5 feet tall to maybe 4 feet at maximum. 
Like we said, people's height differs, and this makes stepping into a hot tub more or less difficult depending on your height. For those that struggle to step into a hot tub, we offer a handistep add-on. Essentially, it's just a pair of steps to help you get in and out of the hot tub easier.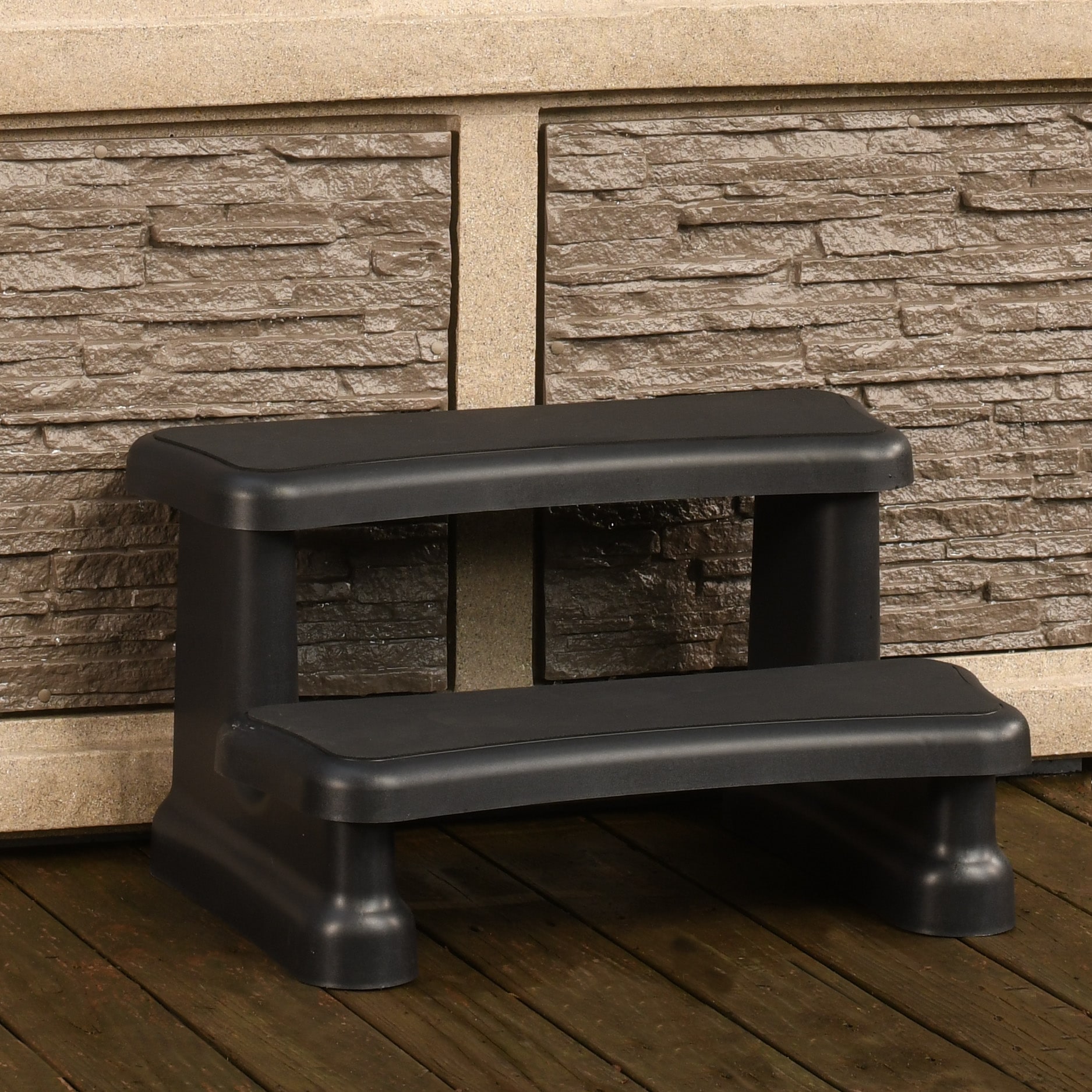 Do You Need The Steps?
The height of a hot tub can differ a bit depending on the model. Models like our Mesa 26 are 32 inches high, whereas the Corona 26 is 34.5 inches high. All of our acrylic spa models are 36 inches in height and are our tallest hot tubs available. Alternatively, our resin models are smaller in stature, with our Luna 16 and Terra 20 both standing at 29.5 inches tall.
All of the dimensions are listed on each product's page under the "Highlights" section. As stated above, the heights of our spas range from 29.5 inches tall to 36 inches tall. For some people, this is an easy height to step into. For others, this is a little tall. Many children also struggle to get into a hot tub on their own accord. This is a pro and a con at the same time. On the brightside, your kids can't get in the spa on their own. Children should always be supervised in a hot tub. On the downside, you have to help them into the spa each time. 
Not everyone will need or want the handisteps, but for some people, it's a blessing to have. You can find hot tub steps in different colors, sizes, and materials. We offer a black set of steps to compliment every color of spa. It features a non-slip surface to prevent falls or slips.