Gift shopping can often be a struggle. Sometimes it helps to think about the items the person already owns. If they love their car, car accessories are a great idea. If they love their dog, dog toys or treats are a great idea. If you're reading this, you're likely here because you have a friend or family member with a hot tub. If you are looking for a gift for someone with a hot tub, you're in the perfect place.
The unfortunate thing about hot tubs is some hot tub accessories like hot tub covers can be very expensive. A spa cover can cost anywhere from $100 to $800. For some people, this is the perfect gift, unfortunately it's a little outside of most gift budgets. A hot tub itself makes a great gift, but is a couple thousand dollars. We've certainly seen a hot tub be gifted to some people, but once again, it's an expensive gift. We're going to list some great gift ideas for hot tub owners in different budget points so you can find that perfect gift for the hot tub owner in your life.
$5 – $10 Range
If you're looking for hot tub gift ideas in the $5 to $10 range, a rubber duck makes a great gag gift. Who doesn't love a good laugh? If your friend has a sense of humor or younger kids, a rubber duck or a couple of them make great gifts. Worst case scenario, if they hate it, it's the thought that counts.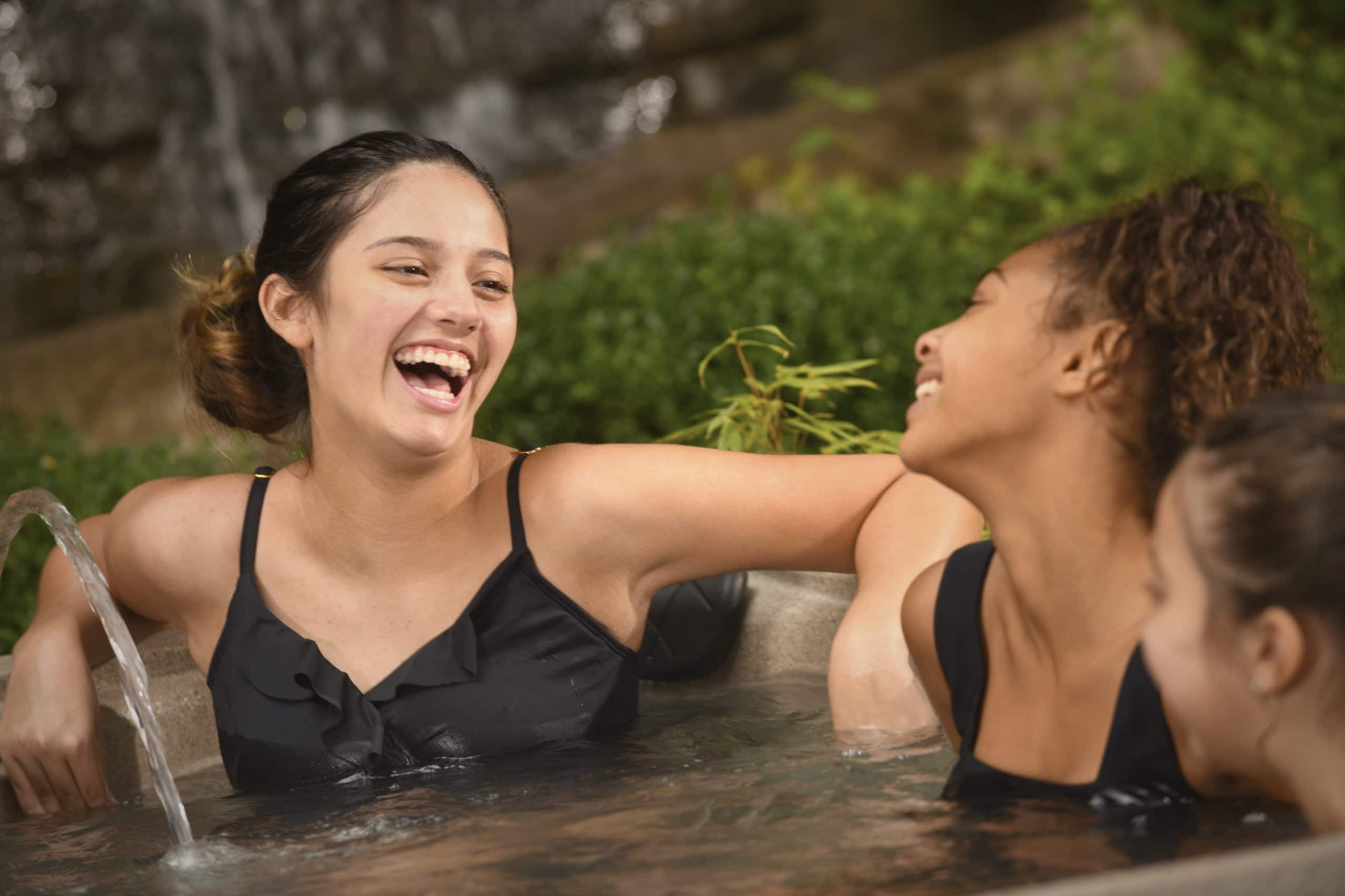 $10 – $20 Range
If your gift spending budget is a little higher, you have more options for gifts. Who doesn't love LED lights on their hot tub? At night you can have a light show in your own backyard. For $10 to $20 you can get a set of floating LED light balls. Oftentimes, these LED balls are color changing as well. Younger kids tend to love these spa accessories and you can use them to throw an awesome hot tub party. 
Another fun gift idea is a set of waterproof playing cards. Some people just want to relax in the hot tub, but others get bored and want something to do. A set of waterproof playing cards allows you to play card games in the hot tub without the cards being destroyed. You can now play games like War, Blackjack, Rummy, Go Fish, and many others.
If you're looking for more practical gifts for hot tub owners, you can buy a set of test strips for $10 to $20. Hot tub maintenance is required to keep your spa water clean and safe. It may not be the most exciting gift, but a set of test strips is one of the best gifts for hot tub owners. A set of test strips only has so many uses. If your friends, family, or whoever else wants to get years of usage from their hot tub, proper water care is essential. If they're using test strips, eventually they'll need more. 
Another option in the $10 to $20 range is hot tub chemicals. For under $20, you can buy hot tub alkalinity increaser or an alkalinity decreaser. These may not be cool hot tub accessories, but they come in handy for keeping your spa water clean and safe.
$20 – $50 Range
As we said above, unfortunately, hot tubs can get expensive. This means some of the best hot tub gifts are expensive. At the $20 to $50 range, you have more options for accessories for hot tubs, as well as practical gifts. To keep a hot tub clean, a filter is a necessary part. Many hot tubs take a 50 square foot filter or a 25 square foot filter. The downside to this gift idea is, you need to know the filter size they require. You can always ask, but there goes the surprise element. Many filters can be bought for $20 to $40 depending on the size needed.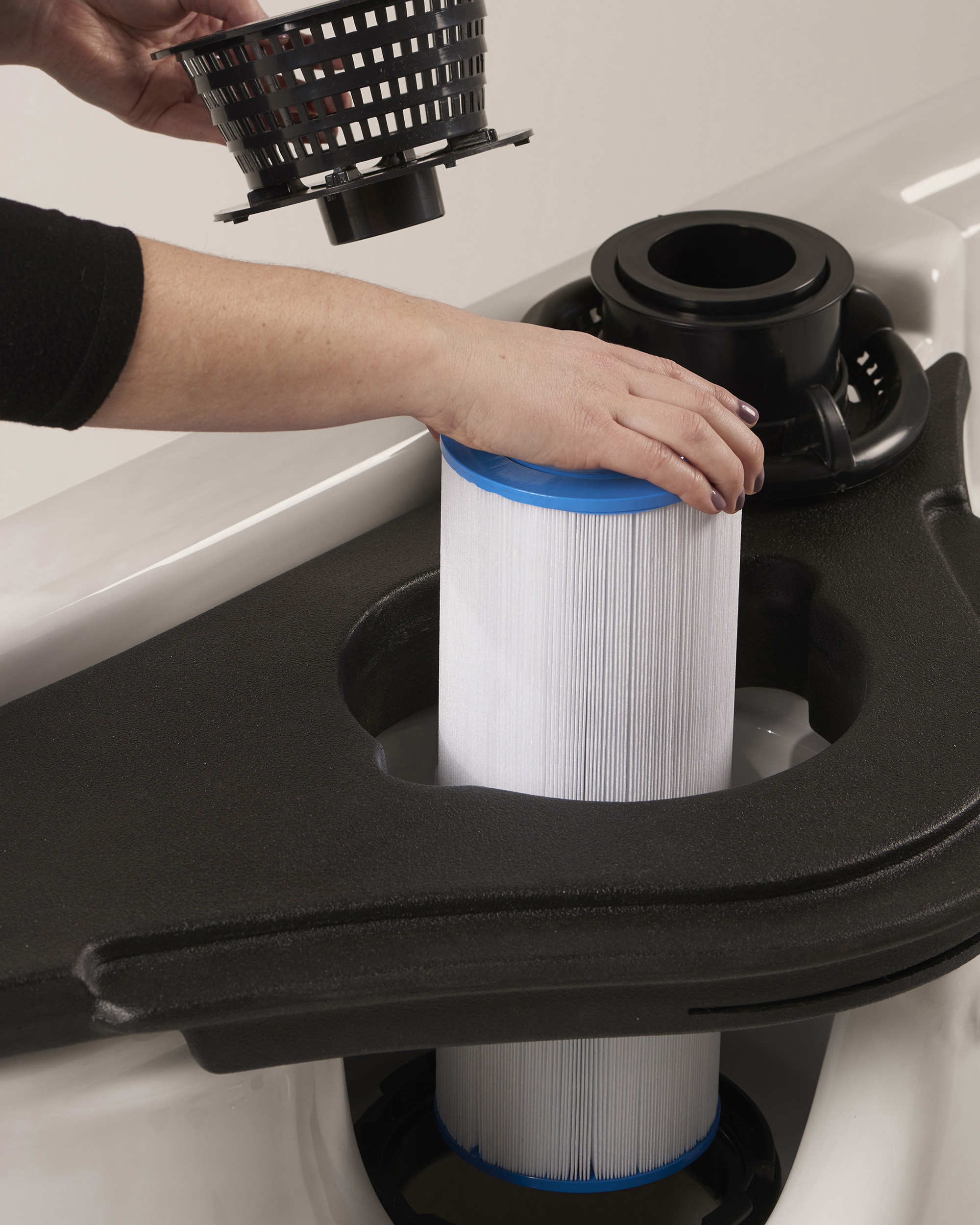 Just under $50, you can get our drink tray add-on. Some hot tubs come with built-in cup holders now, but it's not quite standard. This tray provides a flat surface that acts as a drink holder, allowing you to keep a drink nearby when in the hot tub. The unfortunate part of this gift is, our drink tray only connects to certain hot tub models we offer. It's very unlikely it can work on other brand hot tubs. It uses a simple male female connection that can be easily removed as needed. If the person you're buying for has a Luna 16, Terra 20, or a Corona 26, our drink tray can be added. We can even match the color of the tray to the spa. There are other drink trays available from other brands that work on other spa models, but many of these are around $60 to $80. There's also floating trays for hot tubs and pools, but the downside is it's easy to flip into the water.
Another option is our ice bucket add-on. This too is a male female connection that slides into place and can be removed. This means you can remove the ice bucket, take it inside to fill with ice, and then bring it back outside, assuming you have an outdoor hot tub. This too only works on the Luna 16, Terra 20, and Corona 26 models and requires you to know what spa the person you are buying for has. Like the drink tray, we match the color of the ice bucket to the hot tub. There's a few other ice buckets available on the market, most of those being around $60. You can always just buy an ice bucket that doesn't attach to the spa and place it nearby or on the drink tray if you like. A cool idea some people have done is using the ice bucket as a towel holder. Instead of filling the ice bucket with ice, they keep it dry and use it for storage. You can keep bottled drinks in there, a towel, or anything else.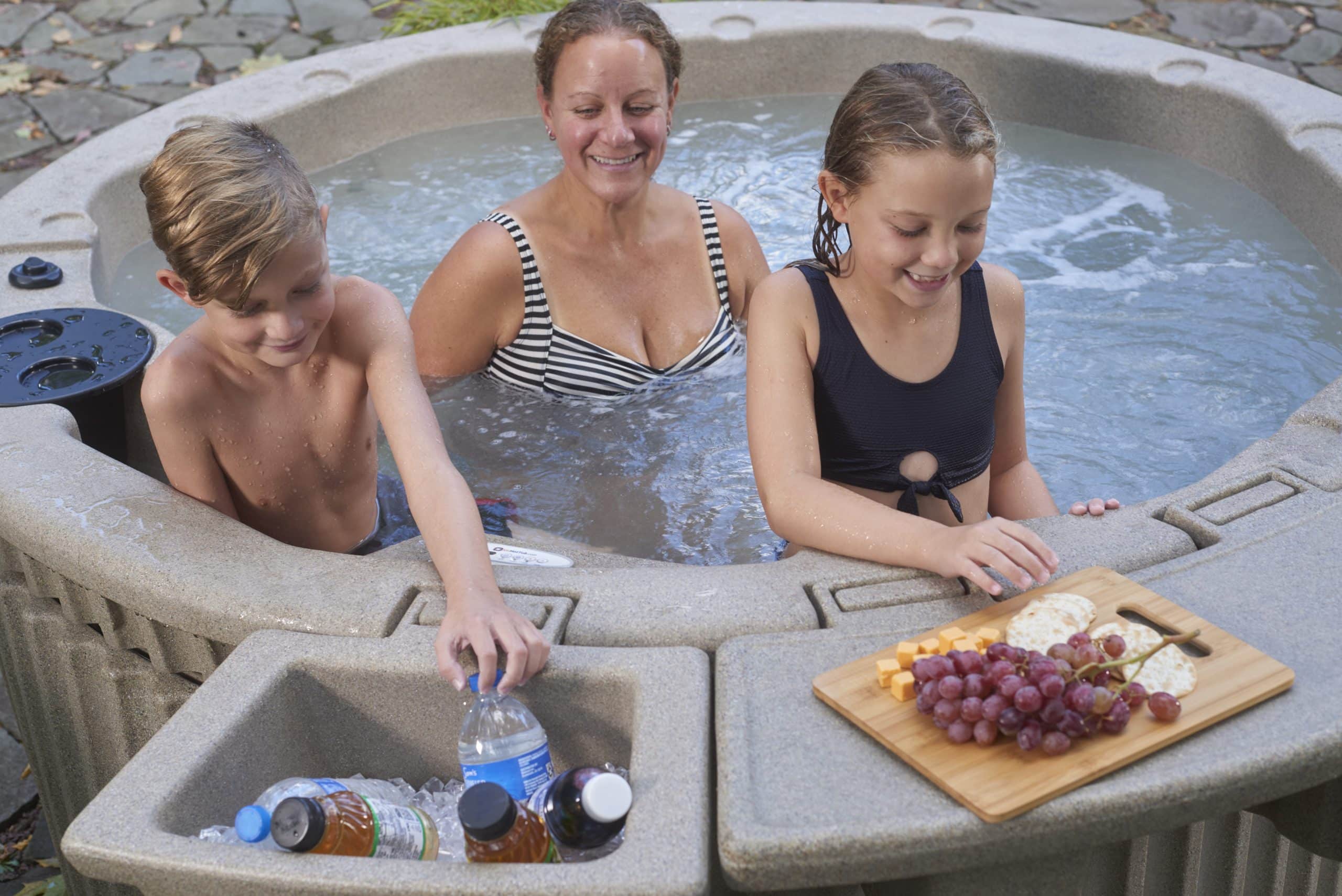 $50 – $100 Range
For $50 to $100, you can find more options for hot tubs. We offer handisteps for $79.99 (at the time of writing this article). Getting in and out of the hot tub can be a struggle for some people, and this offers assistance in doing so. Luckily, these spa steps work with any hot tub on the market. You can find other step options in this price range, but you'll find many are over $100. 
You can also find some rather nice hot tub pillows in this price range. Most of these just hang over the side of the spa and do not require drilling or anything. 
You can also start to find some hot tub covers closer to the $100 price point. The tricky thing about hot tub covers is the prices can seriously vary. You can find some as low as $90 and some as high as $1000. A good hot tub cover can last 3 to 8 years depending on usage and how you take care of it. It's not always the case, but some of these lower priced covers can lack in quality. Just like anyone else, we don't like spending more than we have to, but investing in a good hot tub cover is worth the extra cost.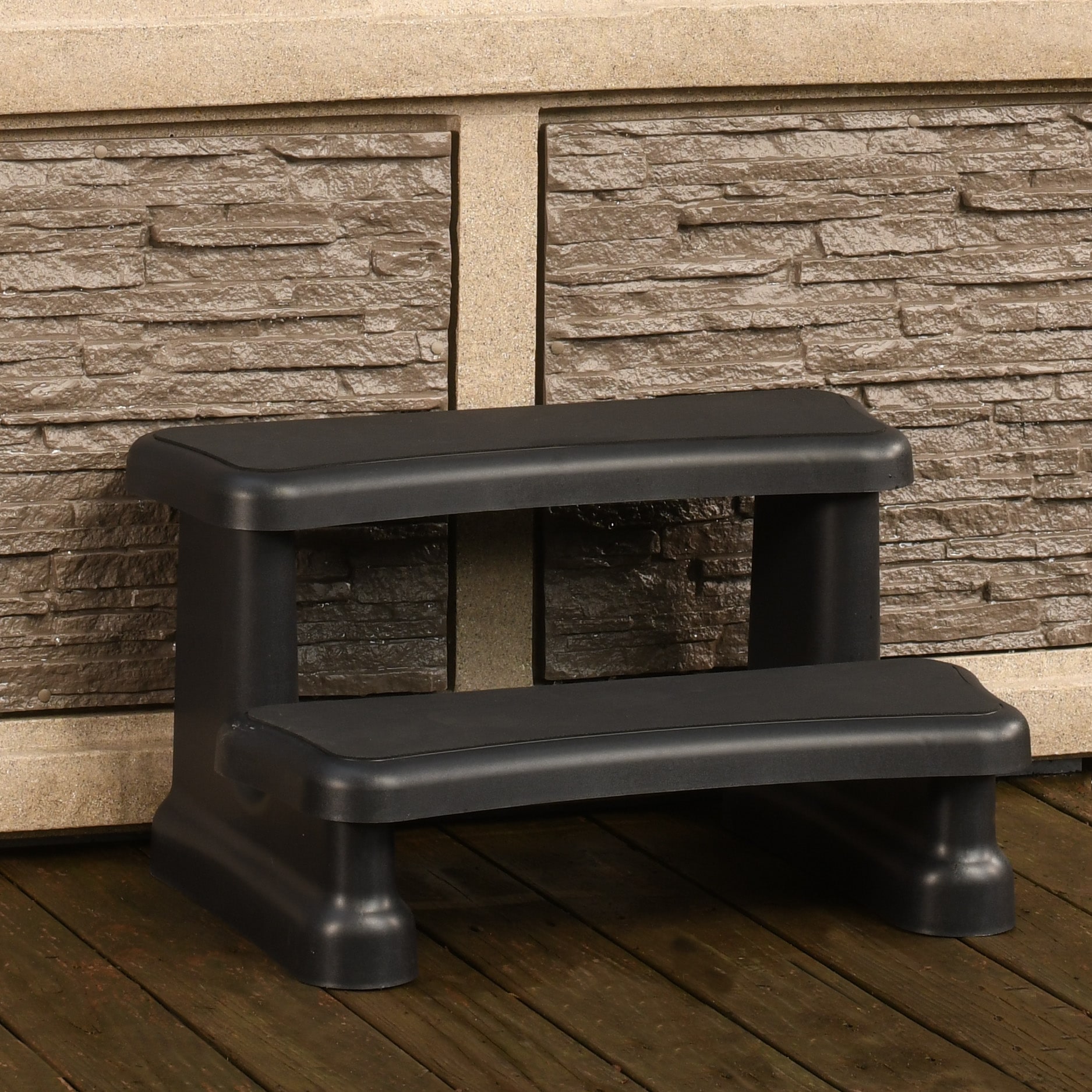 $100+ Range
We didn't want to include this option in the $50 to $100 range because it requires that it be installed in the making of the hot tub, but for $79.99 (at the time of this article), we can install an ozonater on certain hot tub models we build. If you aren't sure what that is, you can read more about it here. For our acrylic spa models, you can have an ozonater added for $149.99 (at the time of this article). Adding an ozonater after the hot tub can be done, but requires some work. Because of this, it costs a little more to add after it's already been built. Many companies will charge anywhere from $100 to $500 for this. 
Another option in the $100 and above category is a spa cover lift. There's different types of cover lifts and really it comes down to personal preference, but these help protect your cover and aid in opening and closing the hot tub. We offer 3 cover lift options on our website, only 2 of which are in stock at the moment.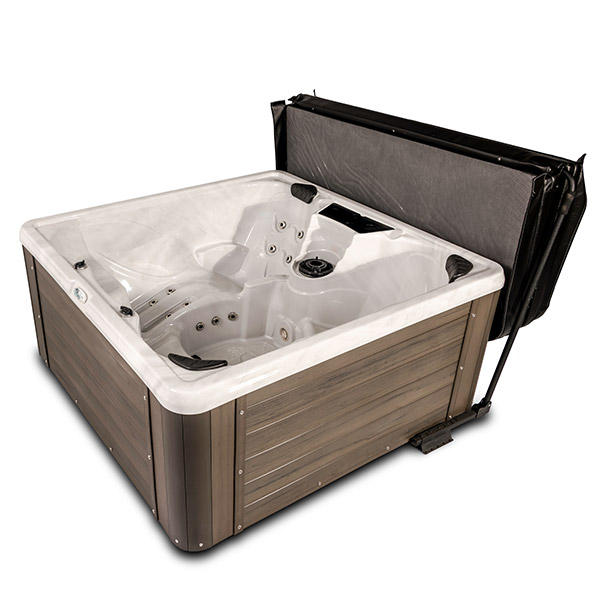 As we said above, there's other spa steps on the market, many of these being over $100. You'll also find many hot tub covers in the $100 and above category. 
For $100 and more, we also offer a base upgrade and a stereo add on. Our base upgrade provides a sturdy foundation for your hot tub, helps protect it from damage, and adds extra insulation that helps reduce the cost of heating your hot tub. The stereo allows you to listen to music as you soak in the hot tub. 
Conclusion
We provided some great gift ideas for hot tub owners at price points for nearly any budget in this article. If you are thinking about buying a hot tub related gift, we hope we provided you with some good ideas or inspiration at the least.