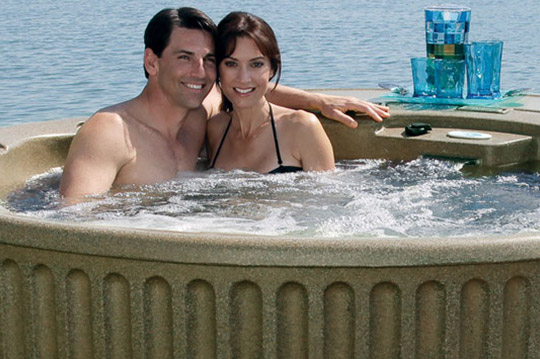 Are you looking to buy a hot tub but not certain what is a reasonable price for the hot tub you desire? A hot tub can be a difficult item to shop for because two hot tubs from two different companies can be vastly different and hard to compare. Choosing the right hot tub for you can be similar to "Goldilocks and the Three Bears". You do not necessarily want the cheapest hot tub on the market because it might sacrifice quality and only last you a year or two. You also don't want to overpay for a hot tub. Sometimes when you pay more for a hot tub, you are really just paying more for the brand name and getting nothing else. Selecting the right hot tub without overpaying can be a challenge. Your hot tub search can easily become the classic generic brand versus name brand debate of comparing the exact same product. Other times two products can be very similar to each other but still offer different features and it is harder to compare the two. So, what is the average hot tub price?
Truth be told, there is no average price for all spas. It is all going to depend on the type of hot tub and features offered. Almost no two hot tub brands exhibit the same thing with the same exact features. You cannot simply compare the two. What you get in one spa, you may not get in the other.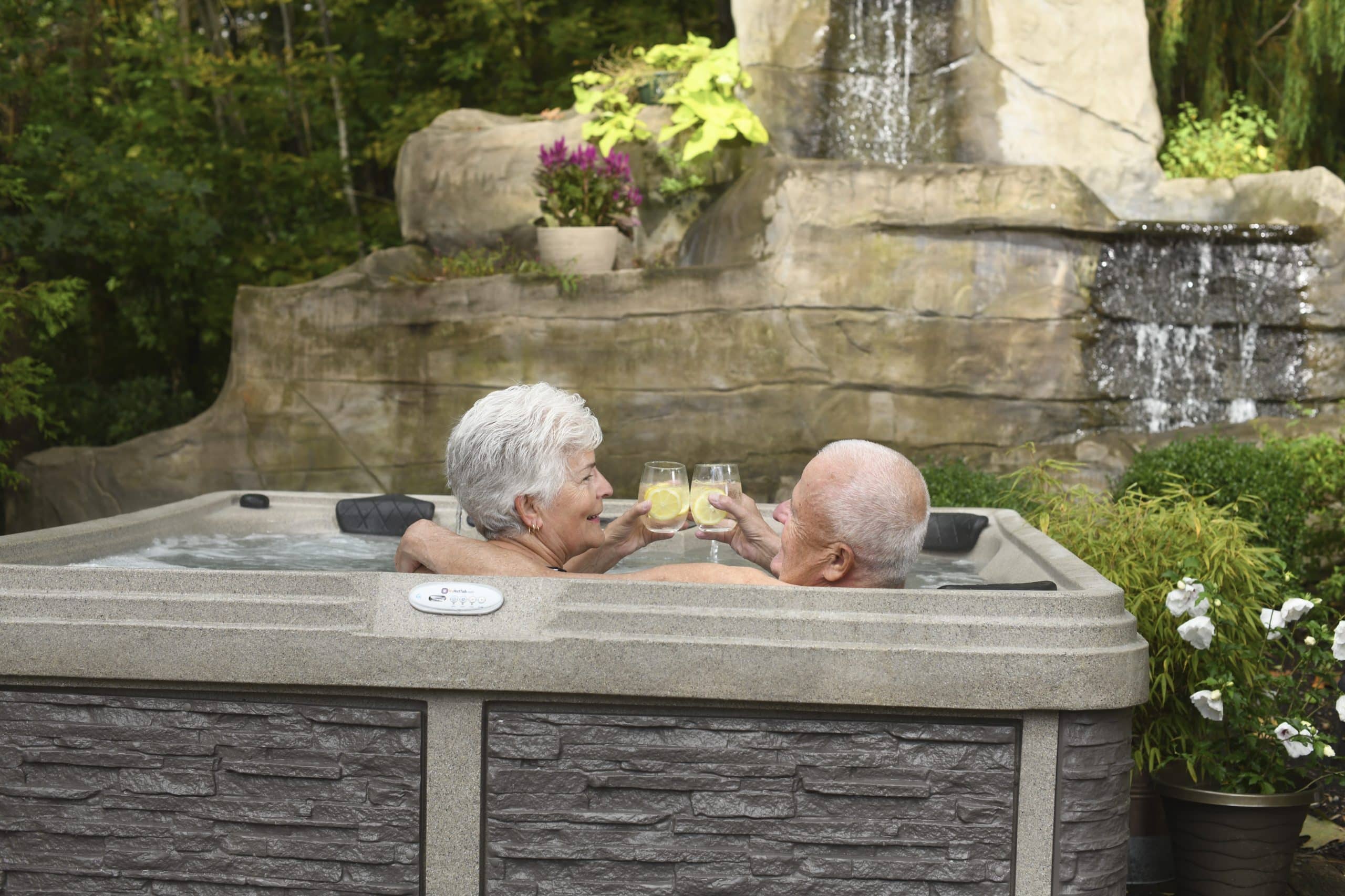 Factors to Consider When Searching
There are several factors that go into determining a spa's price. When buying a spa, you want to have these in mind in order to find the perfect spa. Spas come in different sizes, materials, seat count, jets, features, brands and numerous other things. We are going to strive our best to walk you through these factors and provide examples with our own MyHotTub spa models.
Generally, there are two types of hot tubs, acrylic hot tubs and resin hot tubs. This is the material used to produce the hot tub and how many manufacturers will classify their hot tubs. The type of material used in production of the spa contributes greatly to how much a hot tub costs. Typically, these resin spas cost less than acrylic models. It is fairly standard for resin spas to be a plug and play model. A plug and play spa uses a cord that works on what is known as a GFCI outlet. This is a special outlet used in a location that might come in contact with water but still requires electricity. If the GFCI outlet gets wet, it trips the breaker to prevent electrocution. Most outdoor outlets are already a GFCI outlet, mainly in part due to rain. Most people will place their spa outdoors, so this GFCI outlet works perfectly. If in fact, you have a GFCI outlet and a plug and play spa, all you have to do is just plug the cord into the outlet and it is now working. 
An acrylic hot tub is commonly bigger than a resin hot tub and uses more power to operate it. These hot tubs require a different outlet than a GFCI. Some people will have to pay an extra cost to have the hot tub wired to the outlet they want to use or have the outlet changed to work with the spa. An acrylic hot tub can occasionally add an additional expense to the price you previously paid for the spa because of the outlet. This agitates some people and is important to consider.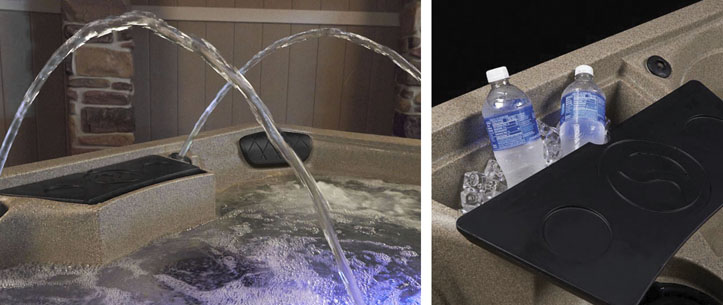 MyHotTub's Average Hot Tub Prices
At MyHotTub, we currently offer five resin hot tub models. These are the Luna 16, Terra 20, Corona 26, Sierra 28, and the Mesa 26. These spa's cost can range from $3,799 to $4,999, but vary with sales, promotions, or discounts we offer at the time of purchase. Our resin spas can accommodate anywhere from three people to six people. The average price for our resin spas is $4,459. Many hot tub stores or dealers will add a substantial markup to the price of a spa to make their money back and a profit. Because of this, their spa's price can be much greater than the cost to purchase it directly from the manufacturer. However, MyHotTub is a manufacturer and we build and sell our spas to the public. There is no additional markup on our spas. In doing this, we can provide high quality spas at a fraction of the price stores and dealers can.
MyHotTub offers five acrylic spas at the moment. These are the Acadia 40, Valencia 40, Geneva 55, Mazara 70, and the Alexandria 85. These spas are built in two pieces, an acrylic shell and a wooden cabinet. The resin spas are all produced as one solid piece. More time and effort goes into building an acrylic spa model and the materials cost more; thus the acrylic models cost more. Our acrylic models are capable of fitting anywhere from five people to seven people. Our acrylic spas cost between $5,999 to $8,999 without any sale, discount, or promotion. These acrylic spas average $7,332.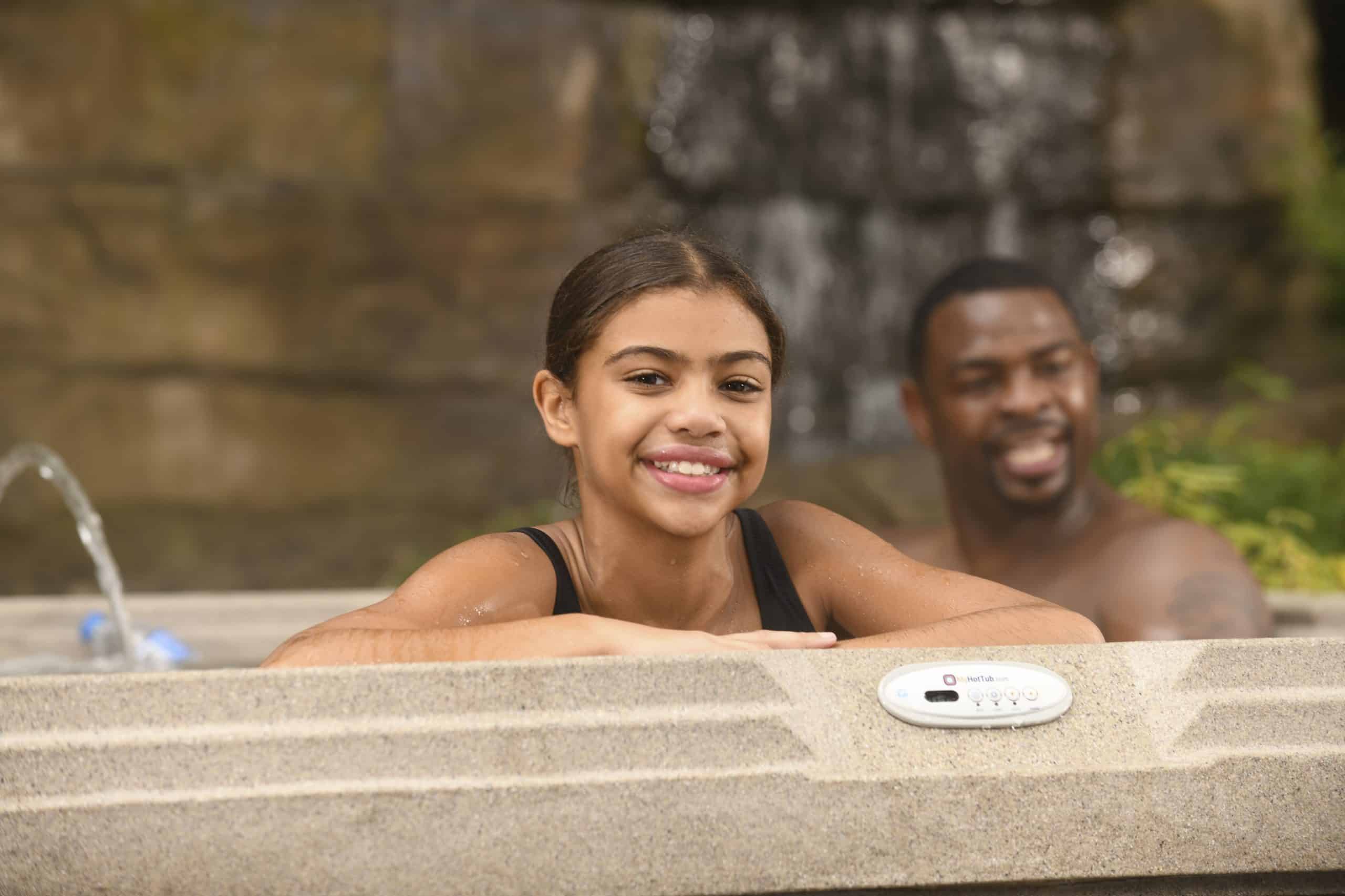 Industry Averages
Once again, we want to emphasize the many components that factor into a hot tub price. Ideally, you should pick what features matter the greatest to you and compare hot tubs based on which serves those needs and provides you the greatest relaxation. A standard resin hot tub with hardly any features can cost as little as $2,999. A high end resin hot tub with numerous features can cost as much as $10,000 or higher at certain locations. That puts the industry average at around $6,500 for a resin hot tub.
An acrylic hot tub with practically no features can cost around $5,000. There's countless features and add-ons that can go into an acrylic hot tub that are not offered on resin models. At the high end of the scale are your very luxurious hot tubs that can cost as much as $20,000 or more. That makes the industry average for an acrylic hot tub about $12,500. 
If Price Is Holding You Back
Some people might disagree, but a hot tub is a luxury item. You can find spas at different price points, but the price of your hot tub really depends on what you want from your hot tub. If price is a big factor for you in your decision making process, some things you can do: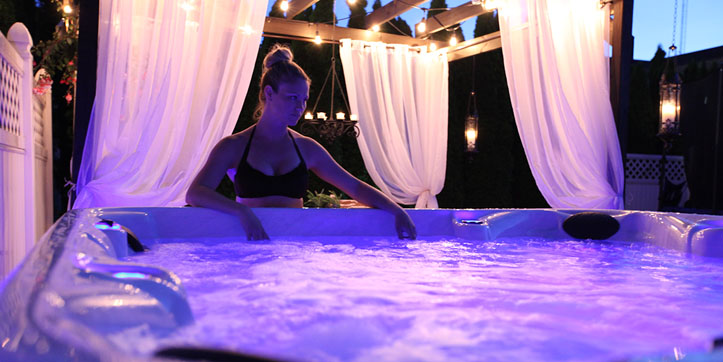 The Best Way To Save Money Shopping For Your Spa
A hot tub price can seriously vary depending on what you are searching for. You will likely pay more money for a hot tub by going to a hot tub store or dealer versus finding a manufacturer that sells to the public. You can find some very similar spas between two companies, but one spa's price can be much higher because of the brand name. 
The best thing you can do to save yourself money when searching for a spa is to consider the features of a spa that you want the most. Some factors to consider are:
Seat Count

Jet Count

Water Features

Size

Delivery and Installation

Material

Price

Reviews

Quality Control
This is an extensive list of features to consider and if you do not understand it all, we have a helpful article on our website detailing it all and what to look for in a hot tub. From this list, you should pick what matters most to you and search for the spa in your price range that fills all or most of these needs. Deciding on a hot tub can be like deciding between two similar cars or houses, and unfortunately there's no Kelly Blue Book value of a hot tub or an appraisal. To find the best spa for your needs you have to really break it down to the essentials and what matters most to you. Some people can be very particular about a brand name, and in that case, that's fine too, just make sure it is what you want. A spa is tricky to shop for, but we hope you now have the tools to shop with confidence.